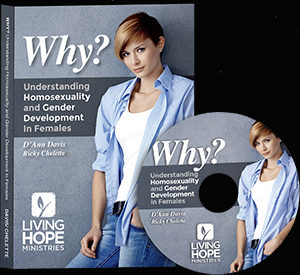 D'Ann Davis was the Women's Director of Living Hope Ministries.  She served with Living Hope from 2006-2016 and as the Women's Director from 2009-2016. D'Ann has a Master of Arts in Christian Education from Southwestern Theological Seminary and a Bachelor of Arts in History and Communication Studies from Texas Tech University.
D'Ann's has taken the original teaching of Executive Director, Ricky Chelette, and added to it her own experience with women, both in person and from all over the world through Living Hope's online ministry, to expand this powerful and insightful teaching.  In this video, D'Ann makes sense of an often confusing topic from a unique perspective with years of experience in walking with women  who struggle with same-sex attraction.
Cost includes shipping within the US. If you are in Australia, you can order this resource from Renew Ministries. If you are interested in shipping outside the US other than Australia, please contact us directly at info@livehope.org.
This is NOT a digital download but a DVD that will be delivered to you. Please allow 2-4 weeks for delivery.
Save $5.00 when you order the Why? DVD set! This set includes the teachings for both men and women.