$47.50 is for a bundle of 10 ornaments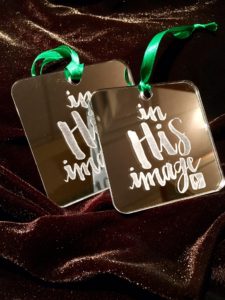 Remember an amazing evening of God's faithfulness and grace with the limited edition ornament made for the 2016 Celebration Banquet!
Let your reflection in the ornament remind you that YOU are made in HIS image!
Each ornament is made of 1/8″ mirrored plexiglass and laser etched with custom art drawn by our own Women's Ministry Director, Bonnie Scasta.  Each ornament measures 3″x3″ and comes predrilled with a green ribbon for hanging.  Place them  on your Christmas tree.  Give them as a little something extra tied to a wrapped package. Share them with friends as an affirmation of God's creative work!
Click on picture for larger view.